Hitting the Road? Don't Forget the Snacks!
Summertime tends to be a busy season for us and our families, and we're sure it's the same way for you, too. Between vacation road trips and scrambling from one activity to the next, we make sure that we have snacks in the car at all times (especially those of us with little ones)!
These are a few of our favorite on-the-go treats for busy times such as this. They'll tide you over between meals, whether you're stuck in traffic or embarking on an hours-long journey. For added convenience, divide the snacks into single-serving containers ahead of time.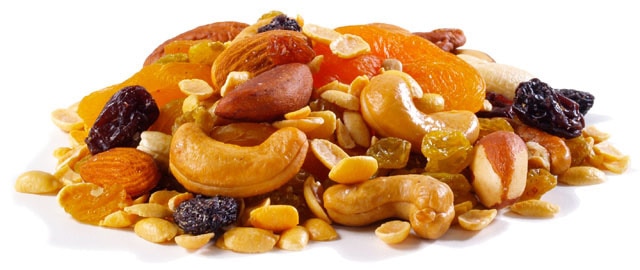 1)      Trail Mix: Trail mix is our main go-to snack during the summer. It's filling and contains a variety of dried fruit, nuts and other tasty ingredients. You may want to steer clear of mixes that contain chocolate candies or flavored baking chips, as they will melt in the sun. Some of our favorite NutsOnline trail mix blends include the sunny Tropical Mix, peanut-packed Power Mix and ever-popular Deluxe House Mix.
2)      Dried Fruit: Dried Fruit is a fantastic on-the-go treat. It's not terribly filling so it won't spoil your dinner, but it does give you a sweet boost when you need it most. And if you have little ones who beg for candy and other sugar-filled snacks, dried fruit may be a great compromise! All of our dried fruit is fantastic on its own, but we really think our Berry Mix is where it's at. It's packed with seven different berries, including our famous dried strawberries!
3)Â Â Â Â Â  Fruit and Veggie Chips: Our all-natural fruit and veggie chips are a crisp, satisfying snack and a fantastic substitute for greasy potato and corn chips. The lightly salted veggie chips include gems such as green beans, carrots and taro. Slightly sweet fruit chips are a tropical delight, with melon, banana, pineapple, papaya and mango in the mix.
4)      Freeze-Dried Fruits and Veggies: Freeze-dried fruits and veggies contain nothing but the produce items they're made from, making them a fabulous snack for toddlers to munch. The Simply Organic Mixed Veggies contain a cornucopia of farm-fresh ingredients such as sweet corn and crispy carrots. The Simply Fruit Cocktail offers up a melt-in-your-mouth array of bananas, berries, peaches, apples, pears and grapes.
5)      Energy Squares: Our bite-sized energy squares are good to keep on hand for days where meals may be delayed. They're quite filling and provide a nutrient-packed punch for work and play. Organic Chia Energy Squares are fantastic fuel for athletes. Mixed Berry Blast Energy Squares and Honey Vanilla Energy Squares have just a touch of sweetness, with no delicate ingredients that could get melty or gummy in the car.