We're NUTS for Servicemen and women!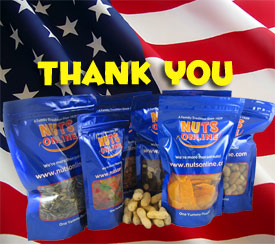 Hey friends! We are so very proud to be launching a wonderful new initiative. As many of you know, most of the peanuts that we shipped to CBS through the NUTS for Jericho campaign ended up in the hands of our troops in Iraq and Afghanistan. And we constantly ship snacks on behalf of military families to their loved ones at APO and FPO addresses. This is all wonderful, but we didn't want to stop there.
So this morning, we launched a new program…NUTS for Our Servicemen and Women. You can send a snack package (7 yummy pounds of our most popular, energy-packed treats) to someone posted overseas in the US military.
We are working to make sure these packages – priced super low at $30 (including the overseas shipping!) – get into the hands of folks in the line of duty who do not get much mail. So not only will your gifts reach those who are working hard to serve their country every day, but they will touch the hearts of people who could use the support most. We know that servicemen and women love to receive mail, so we hope you'll join in with us and give this special gift. Check it out here.
We are so proud of this. We hope you'll join in, and help make someone's day very special.