Celebrate with Custom Candy Favors
Are those wedding bells we hear? Here at Nuts.com, we are so excited to announce our latest, greatest line of candy favors! These candy favors are perfect for weddings, bridal showers and baby showers.
Looking for favors that will make your big day sparkle? We've got you covered! Our personalized candy favors allow you to choose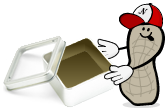 from a huge selection of candy, containers and labels. Our custom favor designer makes it fun to create your favors in four simple steps.
And the best part? Once you've made your selections and placed your order, we'll do all the work! We'll ship your candy favors to you fully assembled and ready to go.
We offer a huge selection of candy by color for our personalized candy favors. It's simple to find a shade that will perfectly coordinate with your decor! Additionally, our candy offerings range from classic choices, such as Jordan almonds, to more modern sweets, such as Jelly Belly jelly beans and chocolate covered espresso beans. We even have favorites like M&M's, Sixlets and gummy bears.
We can also add beautiful favor labels to your personalized candy favors. These labels, which were designed exclusively for our customers, are a gorgeous way to personalize your favors with your names and wedding date.
We know your wedding day is important, and we're happy to be with you each step of the way! If you have any questions about our line of candy favors, please feel free to contact us at CustomerService@Nuts.com or 800-558-6887. Our customer service representatives are on hand to make sure your candy favors are just right!
If wedding bells are in your future, give our personalized candy favors a look! With so many container, candy and label options, you can't go wrong!