Five Tasty Ways to Cook With Quinoa
When it comes to superfoods, quinoa is at the top of our list. This light, fluffy grain is an incredibly nutritious complete protein that's loaded with dietary fiber, phosphorous, magnesium, and iron. It's also naturally gluten-free, which makes it very easy to digest. If that isn't enough for you, it also offers up more protein than any other grain. Like we said, it's super!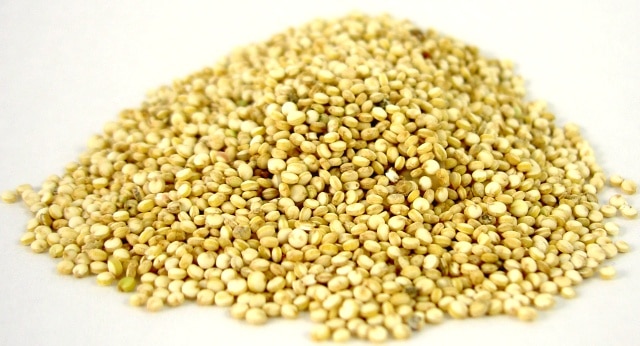 We offer several varieties of quinoa: Our best-selling organic quinoa, organic red quinoa and organic black quinoa. Each offers a mild, slightly nutty flavor that is great on its own and pairs well with a variety of ingredients.
The general rule for cooking quinoa is to use two parts water for every one part quinoa. Simply pour the quinoa and water into a saucepan, bring it to a boil and cover the pot with a tight-fitting lid. Simmer the quinoa over medium-low heat for 15 to 20 minutes, then remove the pot from the heat and allow it to sit, covered, for five minutes before fluffing and serving.
Most varieties of quinoa come with a layer of bitter saponin over each grain that you must rinse away before cooking it. However, we're pleased to say that's not the case with our quinoa. All varieties of NutsOnline quinoa come pre-rinsed and ready to go, making it a breeze to cook it up in a short amount of time.
Quinoa is such a versatile grain that there are quite a few different ways you can serve it. Here are some of our favorites:
1)      Quinoa makes a fantastic substitute for rice when it's paired with stir-fry. We highly recommend making the switch!
2)Â Â Â Â Â  Serve quinoa hot or cold for an awesome breakfast cereal. Spoon the cooked grain into a bowl and top it with goodies like almond milk, cinnamon, chopped nuts, dried or fresh fruit and agave nectar. (Thanks to Facebooker Kristine LaBelle for this fabulous tip!)
3)      Quinoa works well as a side dish for just about any meal. Season it with herbs used in your main dish to make a nice pairing. Cook it with chicken broth instead of water to make it savory. Add fresh or frozen veggies, like peas, carrots and sweet bell peppers, to the liquid before cooking the quinoa to give the dish some pop. If you're feeling really adventurous, you can even throw in some dried fruit and top the dish with a sprinkling of toasted almonds.
4)      Need a delicious, protein-packed salad? Look no further than this superfood! You can sprinkle cold or warm quinoa on top of your green salad to punch up its nutritional value. You can also create a pasta salad-style dish with the grain. Toss cooked, cooled quinoa with fresh raw veggies, a vinaigrette dressing and feta or Parmesan cheese to make a special treat that's fabulous for picnics.
5)Â Â Â Â Â  Organic quinoa flour is wonderful in flavor-packed bread recipes. We especially love this recipe on NutsOnline.com for Crunchy Hemp Protein Bread. This crisp bread is as healthy as it is scrumptious!