Get Festive for the Fourth
Can you believe that the Fourth of July is a little more than a week away? Summertime sure does fly!
We like to get together with friends and family on the Fourth to barbecue, play games, swim and enjoy each other's company. And, of course, that always includes a few treats!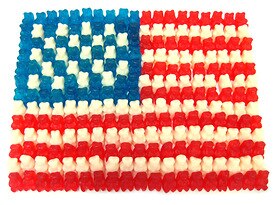 For a simple sweet that kids and adults alike will enjoy, try our USA gummy bears. These chewy, red-white-and-blue candies are delicious and festive, and they're perfect for topping ice cream sundaes! We also recommend our Patriotic Gift Tray. You really can't go wrong with an assortment of sugar toasted peanuts, roasted pistachios and dried blueberries.
Our special July Fourth cookies are also a big hit at the family barbecue, and they're spectacularly simple to make! Just whip up a batch of your favorite chocolate-chip cookie dough. In place of the chocolate chips, add equal parts dried blueberries, dried cranberries and white chocolate chips. If you want to get really crazy, spoon a layer of ice cream between two cookies (after they cool, of course), wrap the treat in plastic wrap and put it in the freezer for at least an hour. Homemade ice cream sandwiches!
What are some of your favorite Fourth of July treats?