Quinoa Chowder Tops Our Menus
This week, we've been all about thick, hearty soups that are packed with veggies. After all those yummy holiday treats, we needed a break! This chowder-style soup has quickly become one of our favorites. Based on this recipe, the soup packs in a wide variety of veggies, along with the high-protein punch of quinoa. Unlike traditional chowders, the quinoa and potatoes in quinoa chowder thicken the soup, leaving no need for heavy cream or butter. It's low in fat and calories, but high in satisfying flavor!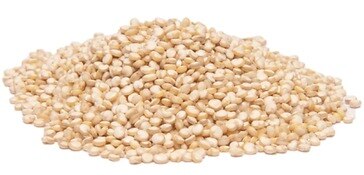 Start by measuring 2 quarts of vegetable or chicken broth into a large saucepan. Add ¾ cup of quinoa to the broth. We like to use our white organic quinoa for the recipe because it gives the soup a creamy appearance, but both organic red quinoa and organic black quinoa are also delicious.
Bring the quinoa and broth to a boil, then cover the pot and lower the heat. Simmer the mixture for 10 minutes, then drain the quinoa, reserving the cooking broth in a bowl. Wash and dry the saucepan, then put it back on the stove and heat about 2 tbsp. of olive oil in the bottom.
When the oil is hot, add one diced jalapeno pepper, two to three minced garlic cloves and about half of a minced red bell pepper. Cook the vegetables until the jalapeno and garlic are slightly soft and fragrant, about one minute. Then, add two peeled and diced red potatoes and two peeled and diced carrots to the pot and sauté the mixture, stirring constantly, for about five minutes.
Pour the reserved broth back into the pot, along with about ½ cup of chopped green onions, 1 tsp. of cumin, a small pinch of cayenne pepper, 1 tsp. of Cajun seasoning or chili powder, and about ¼ tsp. each of salt and black pepper. Cover the saucepan and simmer the mixture until the potatoes and carrots are tender, about 15 to 20 minutes.
Add the cooked quinoa, 1 cup of frozen corn kernels and 3 to 4 cups of finely chopped greens to the soup. We used kale and loved the results, but spinach, chard or collard greens would also be delicious.
Cook the soup until the corn is defrosted and the greens are wilted. Sprinkle in about ½ cup of crumbled feta or grated Parmesan cheese and serve immediately.
What are some of your favorite winter quinoa dishes? We'd love to hear about them!