Special Events Call For Special Treats!
Using candy to sweeten a wedding, shower or other special event is a breeze! Just hop on over to our wedding and events section to view our wide variety of treats and treasures for your special day, then let the planning begin!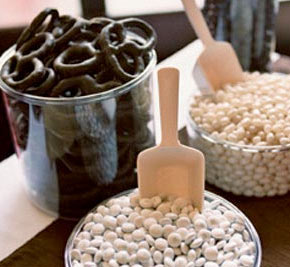 Candy buffets are one of the newest and most stylish ways to showcase candy at an event. (Even Khloe Kardashian had a custom candy buffet at her wedding reception!) Wedding candy, in particular, looks great in a candy buffet and it give guests a memorable gift to take home. Shop for candy by color, theme or price, and arrange your choices in clear vases, glasses and jars. Supply your guests with bags or boxes, outfit each container of candy with a scoop and let your friends and loved ones build custom favors using your favorite candy.
Speaking of favors, did you know that NutsOnline offers candy favors that are appropriate for many occasions? These elegant tins and jars, filled with the wedding candy of your choice, are fantastic offerings for guests at weddings, showers and parties. You can even add a sticker or sweet note to each container. They're perfect for your next celebration!
Centerpieces filled with wedding candy are also a fantastic way to showcase your
favorite sweets. Less expensive than fresh flowers and just as sweet, candy centerpieces definitely take the cake. Choose candy that fits with your event colors or theme, and fill large glass containers with the treats to set in the center of the table. Choose containers that are low enough for seated diners to see over, and make sure to include scoops or tongs so that guests know they're welcome to help themselves throughout the evening!
What are some of the ways you've incorporated candy into a wedding, shower or other special event? We'd love to see some pictures of your beautiful displays (particularly if they included NutsOnline products)! Post your pictures on our Facebook wall, tweet them to us at @Nuts_Online or email them to Kathleen [at] NutsOnline [dot] com.