Three Cheers for Chocolate Bars
Everyone craves chocolate sometimes (or, if you're like us, a little more frequently)! Why not go for the good stuff? Chocolate (particularly the dark varieties) is often considered a superfood because of its awesome antioxidant powers. All the more reason to give in to your sweet tooth!
We've recently rolled out a selection of gourmet bars that are sure to fulfill your cravings for the decadent taste of premium chocolate. These rich treats contain pure ingredients, exotic add-ins and complex flavor profiles to create a satisfying sweet for both discerning tongues and those who are looking for something a bit different.
We also offer several bars with a name you might recognize: Godiva. Our Godiva Milk Chocolate Bar is simple, sweet and delicious. The Godiva 72% Dark Chocolate Bar is quite a bit richer, but still smooth and scrumptious. The Godiva Dark Chocolate Bar with Almonds is packed with perfect nuts.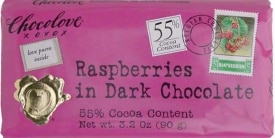 Chocolove makes some truly unique chocolate bars that we just can't pass up! If fruit is your favorite, you simply must try the Chocolove Dark Chocolate with Raspberries Bar, which is full of crisp dried berries. The Chocolove Dark Chocolate Bar with Chilies and Cherries is simultaneously spicy and sweet. Crystallized ginger gives the Chocolove Dark Chocolate Bar with Ginger its sparkle. The Chocolove Dark Chocolate Bar with Sea Salt and Almonds is a fantastic treat for those who enjoy a sweet and savory combination.
These new chocolate bars really do give new meaning to the word "gourmet." We're proud to offer them as part of our product line and know you'll just love them, whether for frequent cravings or special occasions.