Take a Dip in Dark Chocolate Almonds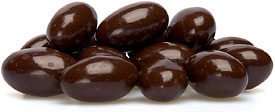 Our dark chocolate almonds are a smooth, rich treat that can soothe any craving for sweets. But did you know these tasty treasures offer all kinds of benefits, in addition to being delicious? It's true!
Almonds are an amazing source of all kinds of essential nutrients. One ounce of roasted almonds offers about six grams of protein and about three grams of fiber. Though, like almost all nuts, almonds contain a fair amount of fat, about 64 percent of that fat is monounsaturated, which can help lower cholesterol levels. In fact, almonds are the leading source of monounsaturated fat among America's most consumed nuts. This super nut is also a fabulous source of zinc, potassium, phosphorus, iron and calcium, so munch away!
Luscious dark chocolate is more than just a special sweet. It contains powerful antioxidants that can lower mildly high blood pressure and battle your risk of heart disease. A little goes a long way, which is why our dark chocolate almonds are so fabulous. They give you just the dose you need, without going overboard.
These almonds are tasty enough to munch as a snack or serve at a special event, such as at a party or in wedding favors. They're also downright delicious when mixed into trail mix or used to decorate cakes and cookies.
If you'd like to give this treat a whirl, but don't want to buy a whole bag, never fear! They are available in a sweet little sample size for just $2.50. We also offer our dark chocolate almonds in several sampler packs, including the Premium Sampler Pack, the Indulgent Sampler Pack and the Heart Healthy Sampler Pack.