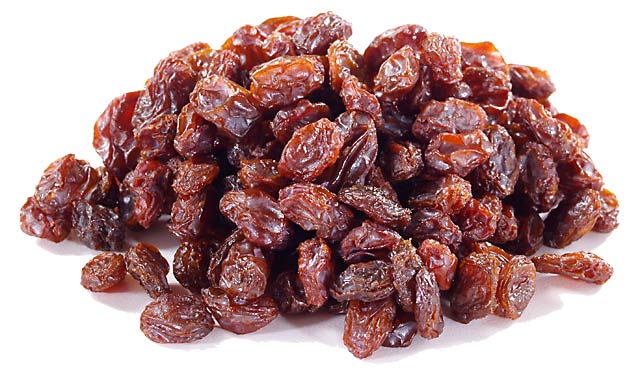 Though we offer a variety of sweets and savories at NutsOnline, today we're celebrating something we like to call nature's candy: raisins. It's National Raisin Day, and we couldn't be more excited! These tasty dried grapes offer boatloads of vitamins and nutrients, and we have so many kinds from which to choose.
Raisins are cholesterol-free, fat-free and low in sodium. They also contain solid amounts of fiber, protein, potassium, iron, calcium, antioxidants and B vitamins. Raisins are also 70 percent pure fructose, a natural sugar that can provide an energy burst before physical activity. They're great snacks for athletes, especially kids who are taking part in after-school sports.
Raisins slide naturally into many recipes, including those for granola bars, trail mix and homemade granola. They also add moisture to baked goods such as breads, cookies and cakes, without contributing an overwhelming flavor.
When many people think of raisins, they picture small, purplish-brown dried fruits. Some of our raisins, such as our dark raisins and midget raisins, fit the bill in that regard. However, raisins are far more diverse than that.
Our jumbo golden raisins are almost as large as full-sized grapes and have a tender texture. Reddish crimson raisins are incredibly sweet and moist. The jumbo golden flame raisins are plump and delicious.
We also offer a selection of specialty raisins. This includes organic varieties, such as the organic raisins and the organic sultana (golden) raisins. Our jumbo Thompson seedless raisins are the biggest you'll ever see, and cluster raisins are dried on the vine, which gives them incredible sweetness.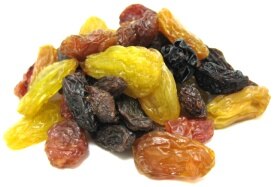 Want to try a variety? The raisin medley features five of the most popular varieties, including jumbo golden, crimson, Thompson, flame and golden flame raisins.
For a truly rich experience, try some of our special raisin-based treats. Yogurt raisins are rolled in a thick, sweet coating. Chocolate raisins and dark chocolate covered raisins are both classic combos.
What's your favorite way to cook with and eat raisins? We admit to enjoying a good helping of extreme trail mix every now and then, but our absolute favorite is the plain ol'. dried fruit, gobbled by the handful. Delicious and nutritious!