Blueberry Cheesecake Truffles
This blueberry cheesecake truffles recipe was developed exclusively for Nuts.com and our customers by the talented Anya Kassoff and Masha Davydova. This mother-daughter team share their ideas about tasty and nourishing cooking on their website, Golubka Kitchen.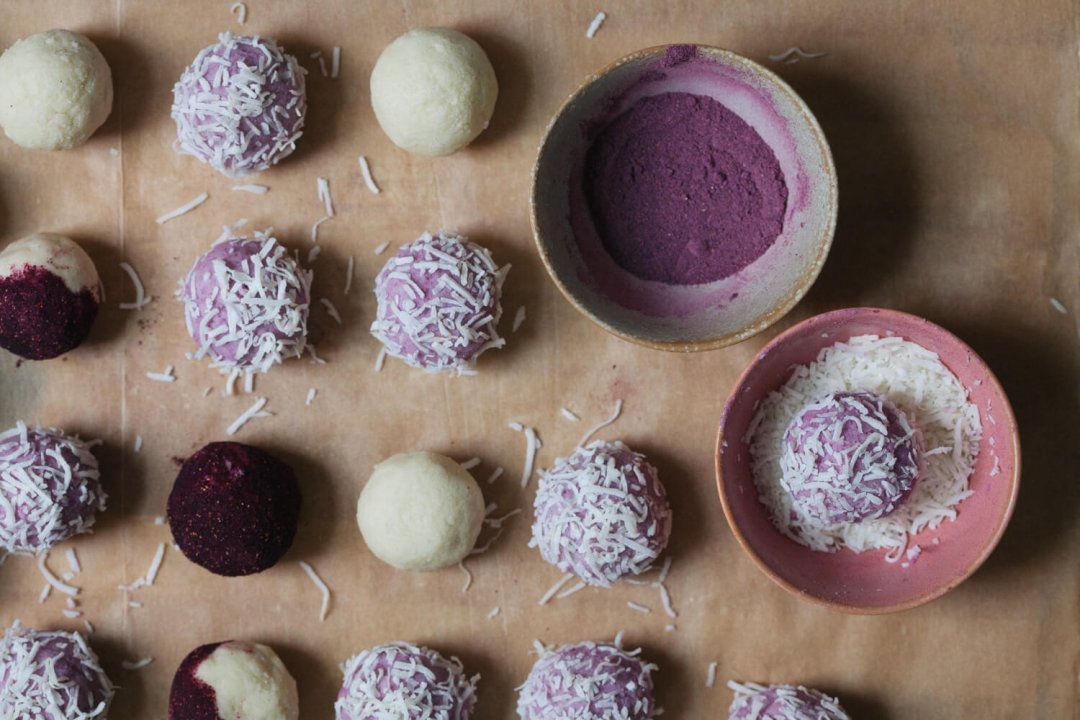 These blueberry cheesecake truffles are as decadent as they get, as well as vegan and made entirely of whole foods that are as good for you as they are delicious. Cashews, cacao and coconut butters yield their richness to these truffles and create a heavenly, buttery texture, while being amazing sources of healthy fat.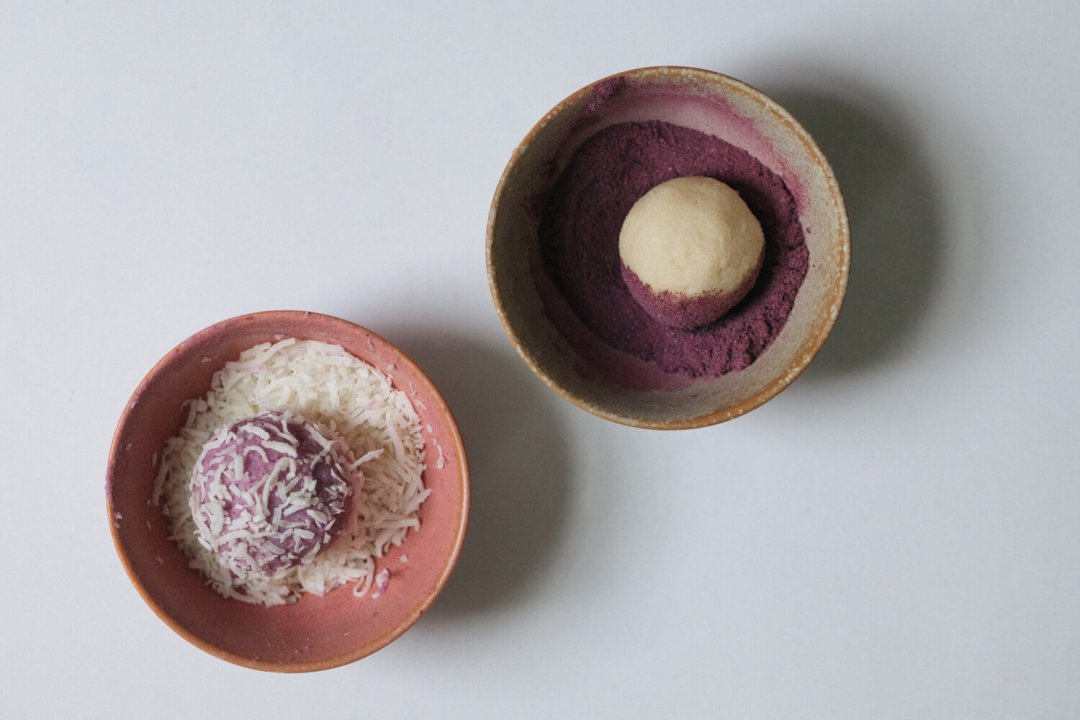 The blueberry powder that colors these treats a stunning purple is a great option for satisfying an out-of-season blueberry craving. It's made of freeze-dried blueberries and retains many of the antioxidants and vitamins found in fresh blueberries, and tastes delicious to boot.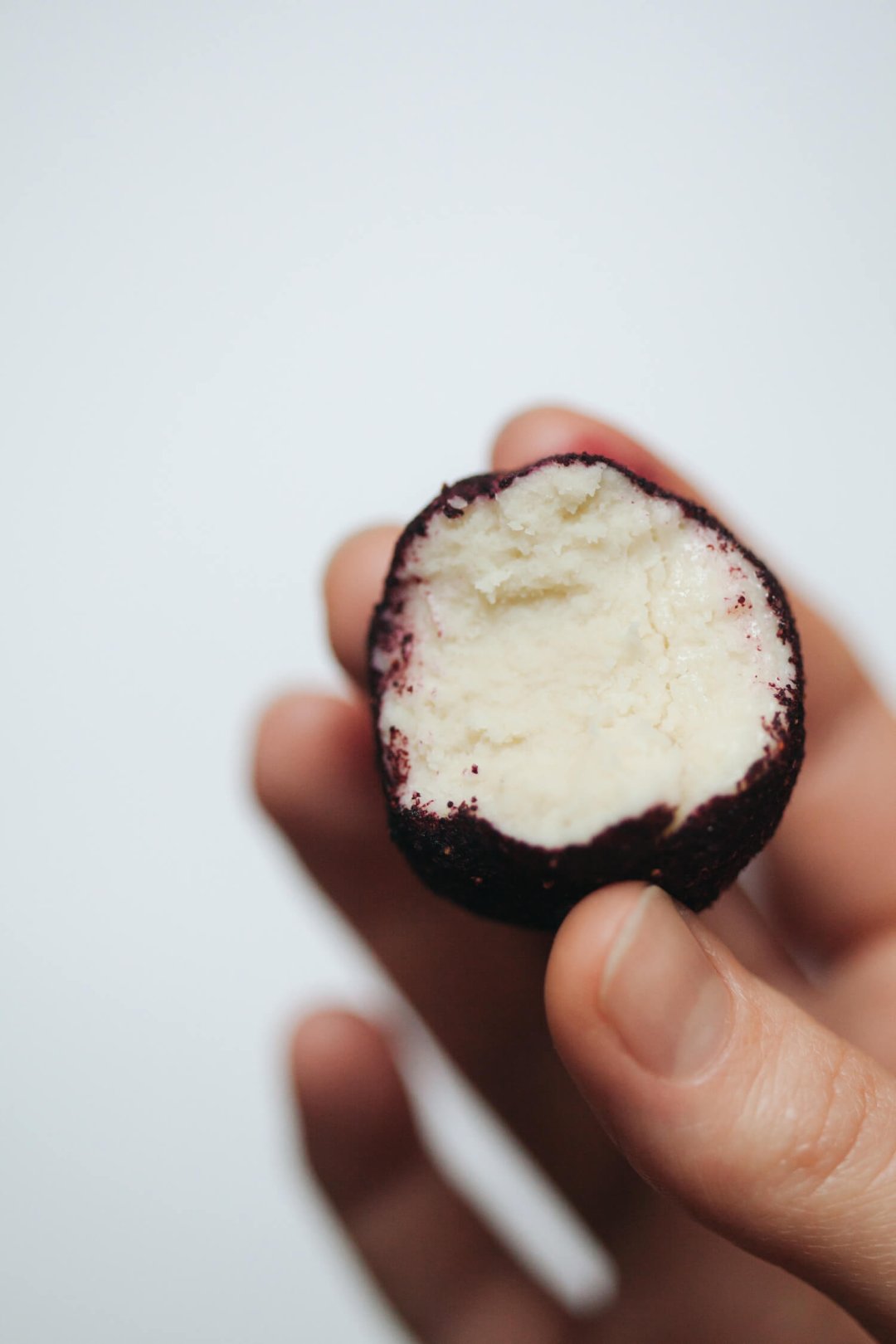 These truffles are sweetened with your choice of maple syrup or honey and get their characteristic, tart cheesecake flavor from the addition of fresh lemon juice and zest – all ingredients that we can stand behind for this indulgent yet wholesome treat.
Ingredients
Instructions
Combine the coconut fat, cacao butter and coconut butter in a medium saucepan. Gently melt over very low heat, whisking until all the butters are incorporated into an even mixture. Add in the maple syrup or honey and whisk to combine until smooth.
Drain and rinse the cashews and combine them with the lemon juice in an upright blender until smooth. Add the zest and salt and pulse to incorporate.
Whisk the cashew mixture into the melted butters until fully combined. Evenly distribute the mixture between two medium bowls. Add 1 tablespoon of blueberry powder to one of the bowls and whisk to combine. Cover both bowls and place into the refrigerator until the mixtures are set, but still scoopable, about 1-2 hours.
Prepare a large, parchment paper-covered tray or cutting board, along with two small bowls filled with the remaining 2 tablespoons of blueberry powder and desiccated coconut. Scoop about 1 tablespoon of the truffle mixture at a time, rolling it into a ball between the palms of your hands. Roll each truffle in the desiccated coconut or blueberry powder (I rolled the white truffles in blueberry powder and the purple ones in desiccated coconut) and place onto the prepared tray. Keep refrigerated for up to 5 days.
Notes
To get the fat to separate from the water in a can of full-fat coconut milk, place the jar into the refrigerator for a few hours or overnight. All the fat should accumulate and harden at the top of the can.
https://blog.nuts.com/blueberry-cheesecake-truffles/