This sorghum beet risotto recipe was developed exclusively for Nuts.com and our customers by the talented Anya Kassoff and Masha Davydova. This mother daughter team share their ideas about tasty and nourishing cooking on their website, Golubka Kitchen.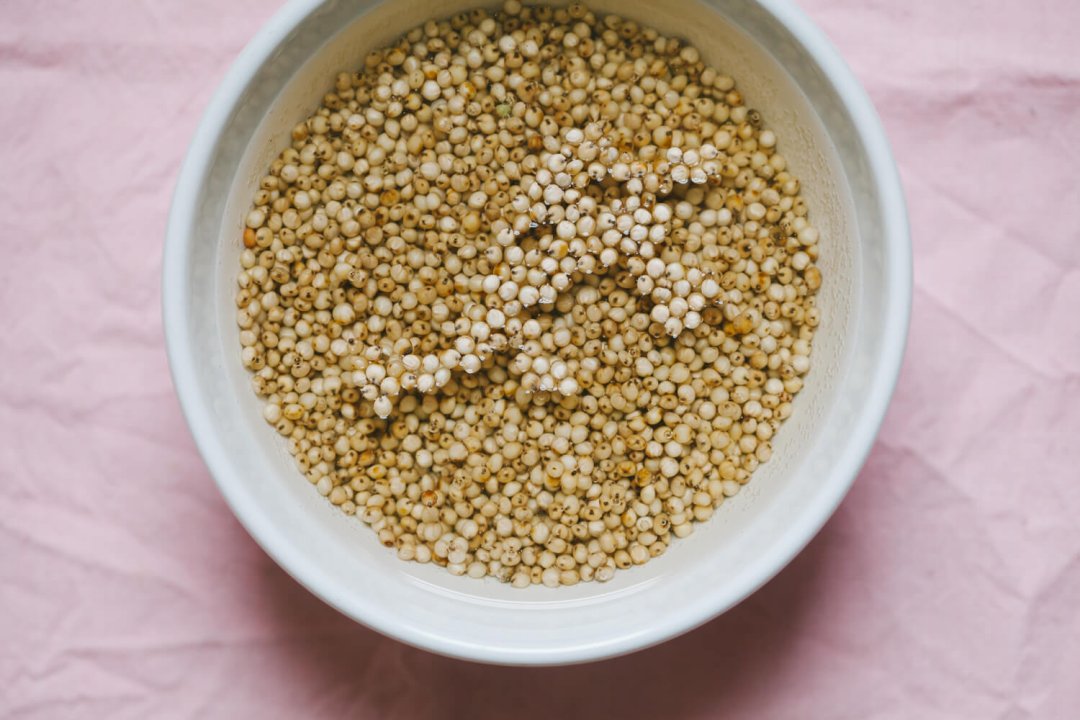 I love preparing alternative grain risotto, as it allows me to get a variety of nutritionally dense grains other than Arborio rice into my diet. I've tried and succeeded in making risotto with buckwheat, barley, black and red rice, and most recently sorghum. Sorghum is a protein and fiber-rich, gluten-free grain that contains a wealth of vitamins like riboflavin, thiamin and niacin, as well as many crucial minerals like magnesium, copper, calcium, phosphorus and iron. It's great for digestive and bone health, as well as cancer prevention.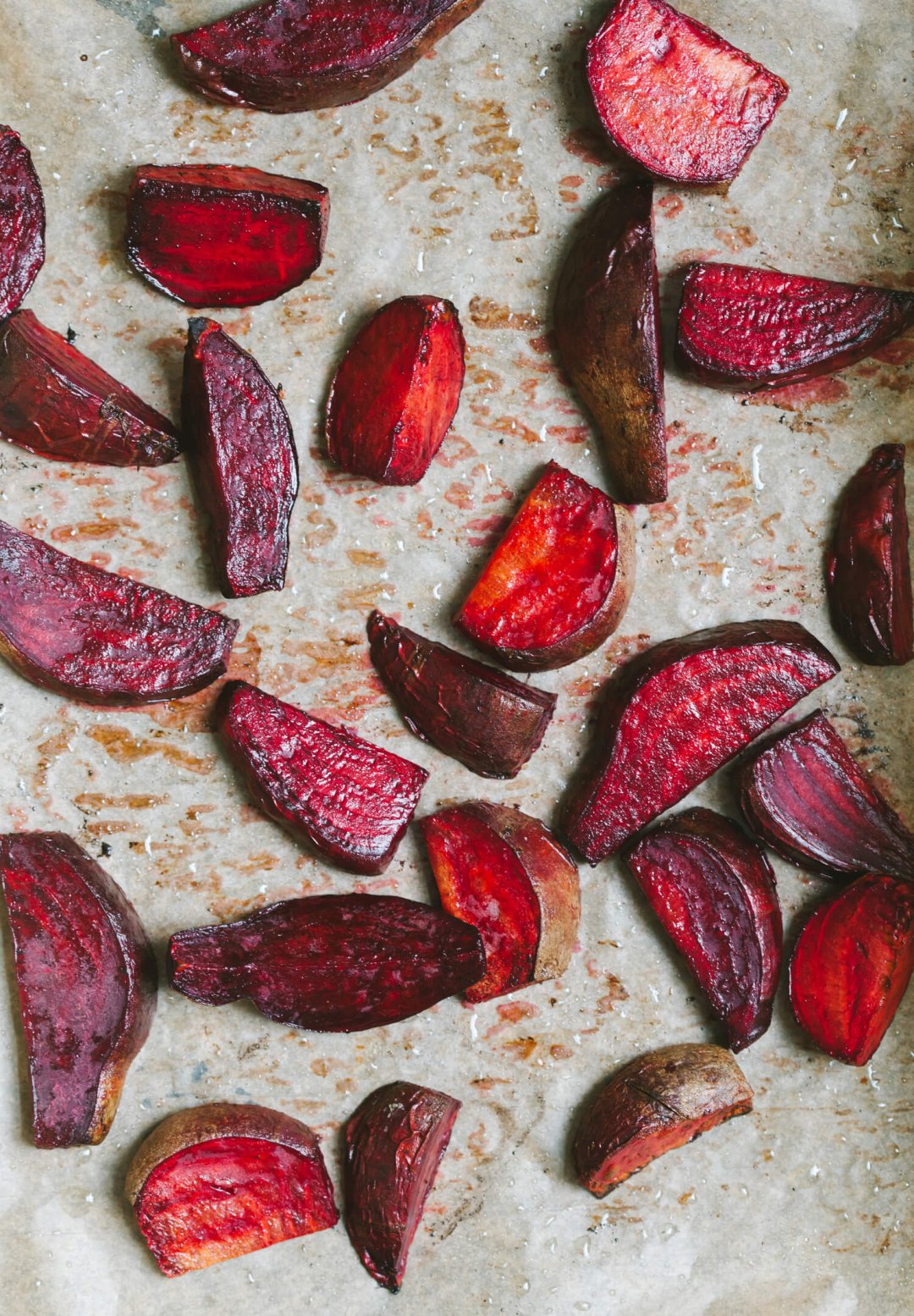 The sorghum grain is almost perfectly spherical and has a very pleasant, toothsome bite to it once cooked, which is perfect for that risotto-like texture. Alternative grain risotto usually requires something extra to achieve that traditional, creamy consistency that normally comes from the starch in Arborio rice. Since not many other grains are as starchy, I like to incorporate blended roasted root vegetables, beans or coconut milk to achieve that sought-after consistency.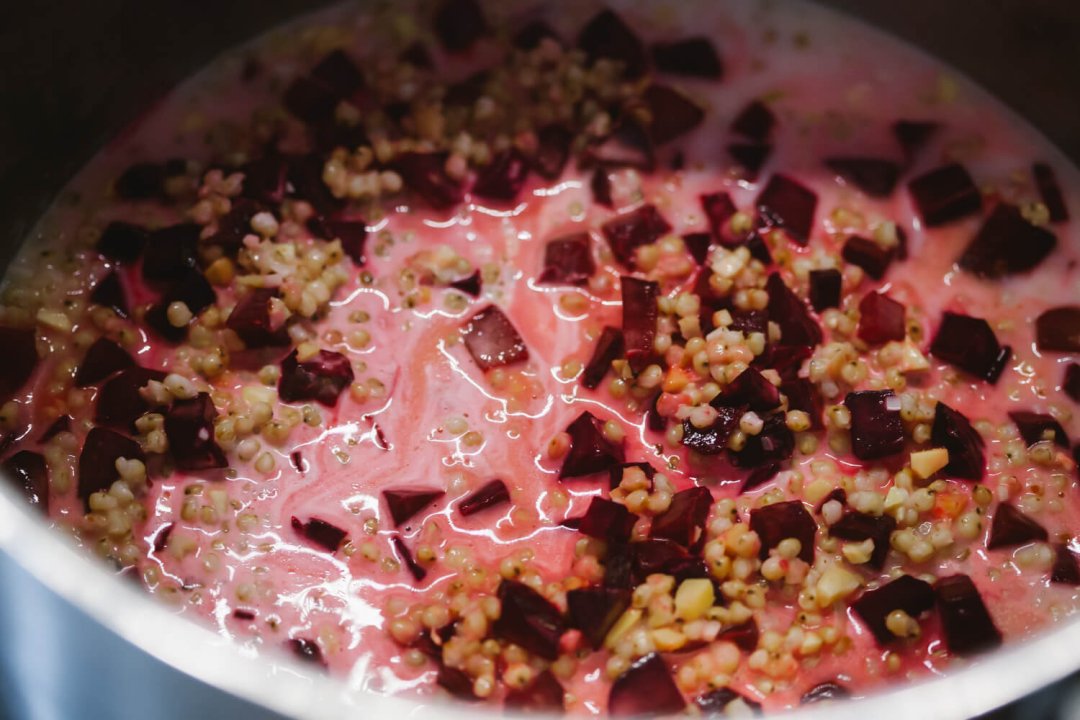 In this risotto, I went with coconut milk, which integrates seamlessly with the flavors of the beets, ginger, garlic and chili. Both beets and ginger are extremely nutritious roots, which are great to incorporate into your diet during this time of the year for their immune-boosting properties. Though the spicy, sweet and earthy flavors in this dish are a bit far from the classic, it's absolutely delicious in its own right, all the while maintaining that well-loved, creamy grain dish format.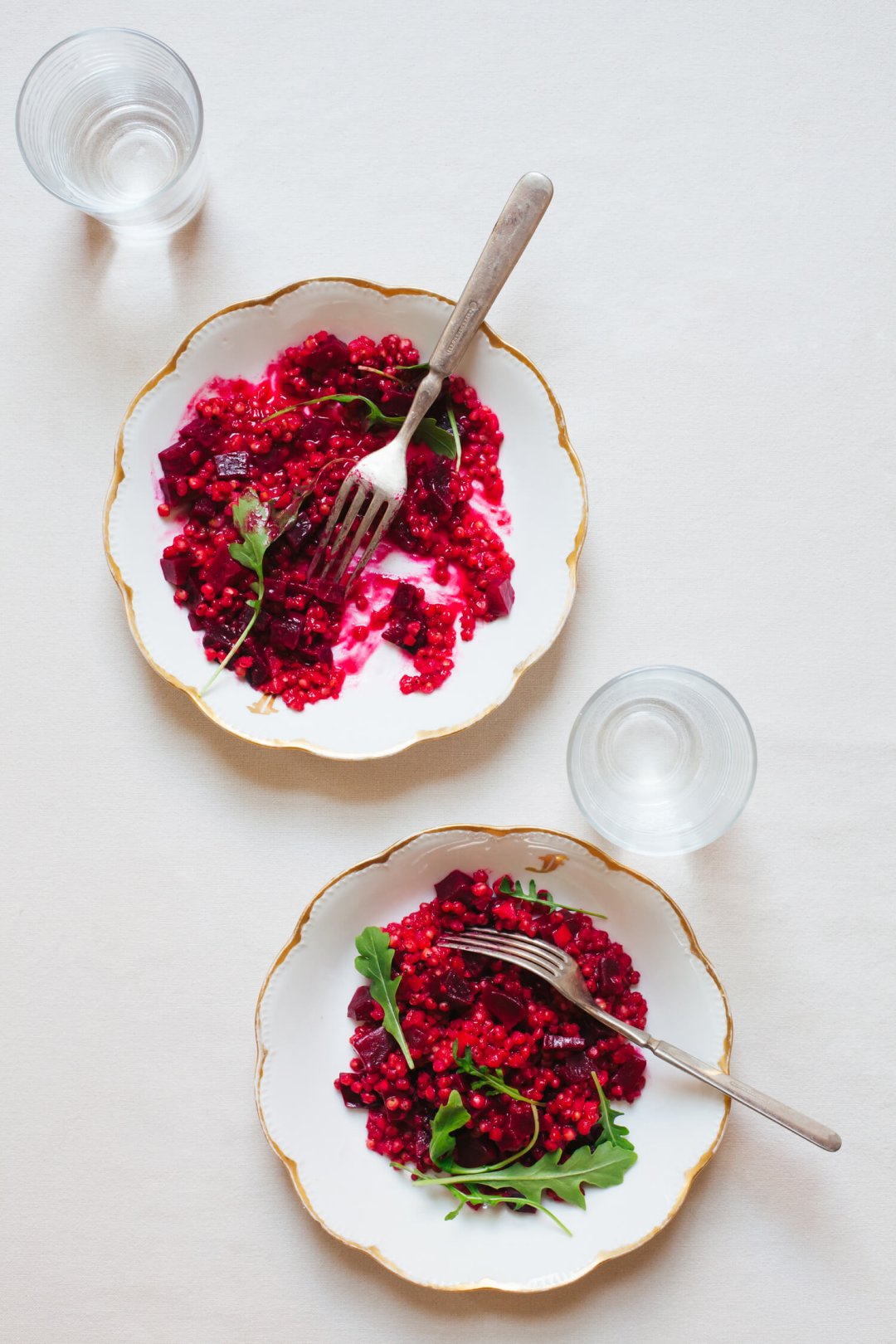 It's also arguably easier to prepare than traditional risotto, since it does not require constant babysitting and stirring, and that is always a bonus in my book.
Ingredients
1 cup Whole Sorghum - soaked in purified water overnight
3 cups vegetable broth, plus more if needed
3-4 small to medium beets (optionally with tops if fresh)
1 tablespoon Neutral Coconut Oil
1-inch piece ginger - minced
4 garlic cloves - minced
1 small chili pepper - seeded and minced
juice of 1 large lemon
1 can unsweetened light Thai coconut milk
splash of tamari
Instructions
Drain and rinse the sorghum. In a large saucepan or a deep pan with a heavy bottom, combine the sorghum and vegetable broth. Bring to a boil over high heat, lower the heat to a simmer and cook, covered, for 50 minutes to an hour, until the sorghum is pleasantly chewy and fully cooked, and most of the broth is absorbed.
In the meantime, cook the beets. Quarter each beet and either steam or roast them until cooked. To steam, arrange the beets in a steaming basket over a pot of boiling water, cover, and steam for about 20-30 minutes, or until tender. To roast, preheat the oven to 400° F (200° C), arrange the quartered beets on a parchment paper-covered baking sheet and toss with coconut oil, salt and pepper. Roast for 20-30 minutes, stirring at halftime, until tender. Let the beets cool, then peel them and cube them into small, bite-sized pieces. If using the tops, separate the stems from the leaves, roughly chop the leaves and set aside. Chop the stems and add to the steaming basket or the oven with the cooking beets for the last 10 minutes of the cooking time.
When the sorghum is done cooking, push it to one side of the pan, add the coconut oil to the open surface and increase the heat to medium. Add ginger, garlic and chili and sauté for about 3-4 minutes, until fragrant. Stir to combine with the sorghum and pour in the lemon juice. Let cook for another 1-2 minutes, until the lemon juice is absorbed.
Add the cooked beets, stems and leaves, if using, coconut milk and tamari to the pot. Toss to combine and bring to a simmer. Cover and cook, stirring occasionally, for 10 minutes, until the greens are wilted (if using), and the consistency is creamy and risotto-like. Add a splash of vegetable broth if more liquid is needed for the right consistency. Serve warm, accompanied by a green salad.
https://blog.nuts.com/sorghum-beet-risotto/