Candy Buffets Make Sweet Wedding-Day Treats
Candy buffets are quickly becoming all the rage at wedding receptions, and we can see why. What could be more fun than providing your guests with a sweet take-home treat to remember your special day by?
Setting up a candy buffet is simple and, in most cases, fairly economical. The base of the buffet should be a big table, along with some boxes of various sizes to give the buffet visual height. Arrange the boxes on the table, then drape a large, neutral-colored tablecloth over the whole thing. Place a clear, attractive vase on top of each box and fill the vases with different varieties of treats. Make sure to provide scoops or tongs for each vase to allow guests to select their candies in a sanitary way. Stack some personalized bags or containers at one end of the buffet that guests can fill and keep as souvenirs.
When it comes to candy buffets, buying big is key. It's safe to estimate that you'll need a minimum of one-fourth to one-half of a pound of candy for each guest in attendance at the reception. Another way to determine the amount of candy you'll need is to purchase the take-home containers first, figure out the number of ounces they hold and buy enough candy to completely fill each of them. To create the most eye-catching candy buffet, offer five to 10 different varieties of treats. Popular choices include Jordan Almonds, jelly beans, mint lentils, and more.
That may sound like a lot of sugar, and it probably is more candy than most guests are likely to take. Keep in mind that, visually speaking, the display will look far more attractive if some candy remains in the containers throughout the evening. It's better to have leftover sweets than not enough for each guest to take his or her share.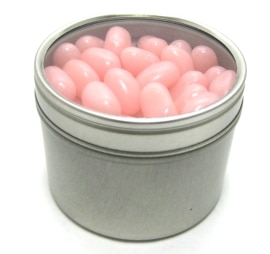 Candy buffets are great additions to wedding receptions because they are so easy to personalize. For example, the bride and groom can set up a retro-style display of items that were their childhood favorites, such as candy necklaces, gummy bears, and lollipops. It's simple to create an elegant buffet by choosing sweets that match the wedding colors and adding an arrangement of coordinating flowers to the table. The candy buffet can even reflect the location of the wedding; for example, a couple getting married at the seashore might choose items like saltwater taffy, and colorful rock candy.
Not a huge fan of sugary sweets? No problem! Savory items complement most candies well and are a great addition to any candy buffet (particularly one that contains a fair amount of chocolate). Try tamari almonds, macadamia nuts, and wasabi cashews, for example. You can also mix the sweet and savory with items like chocolate-covered espresso beans.
If you are going to include nuts on your candy buffet, be mindful of guests who may have severe allergies. Keep the nuts and candies, along with their serving utensils, in separate vases at all times, and label them with place cards, either placed in front of each vase or clipped to the top of each container.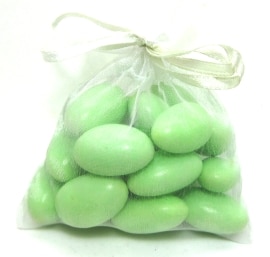 The containers that the guests will take home should really reflect the personal nature of the event. Have fun with them! Some ideas include purchasing Chinese-takeout-style boxes in the wedding colors, decorating clear party bags with monogrammed stickers or ordering inexpensive tins with the names of the bride and groom and the wedding date printed on them.
At the end of the day, a candy buffet is more than just a way to appease reception guests with a sweet tooth. It can also serve as a striking centerpiece in any party hall. A well-done, creative candy buffet will draw quite a bit of attention both as a decor element and as a fun, hands-on experience.
Browse NutsOnline's wide selection of wedding candy.