Start Your Day With Homemade Granola
Granola is a sweet, satisfying way to start your day.  Store-bought granola is dandy, and we offer quite a few varieties that are sure to please. However, if you're jonesing for something a bit different, why not try making you own?
A good homemade granola has several components: an oat mixture, a glaze and mix-ins. Once you get these areas down pat, it's simple to build the cereal of your dreams
The Oat Mixture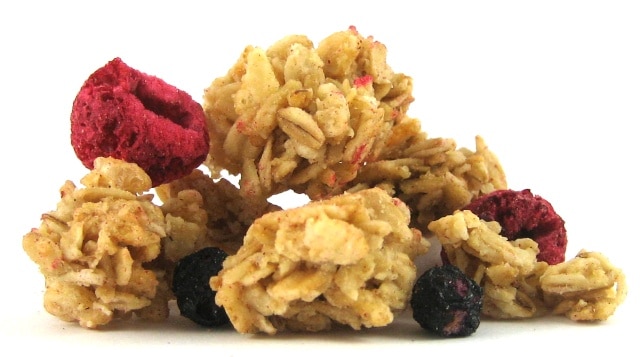 The base of most granolas is a mixture of oats, coconut and other grains. One batch of granola requires about 5 cups of these ingredients, about 4 cups of which should be old-fashioned rolled oats. The remaining cup can be a mixture of shredded coconut and a finer grain, such as oat bran or toasted wheat germ. For best results, use an unsweetened shredded coconut. Stir the oat mixture together in a large bowl and set it aside while you prepare the glaze.
The Glaze
After mixing up the oat mixture, you'll need to prepare a glaze for the granola. This sticky mixture lightly flavors the homemade granola while also allowing it to toast up to a nice, crunchy texture in the oven. The base of any glaze should be ¼ cup of light brown sugar and about 1 tsp. of good-quality ground cinnamon. This will give the glaze the rich, spicy flavor notes that go so well with dried fruit and nuts. Dump the sugar and cinnamon in a small saucepan and add ¼ cup of a neutral-tasting oil such as vegetable or canola. Stir in ¼ cup of real maple syrup or honey. Cook the glaze over medium heat, stirring constantly, until it boils and foams up in the saucepan. Remove it from the heat and add 1 to 2 tsp. of pure vanilla extract.
Pour the glaze over the oat mixture and stir until everything is evenly coated. Spread the granola in an even layer on a cookie sheet and bake it at 350 degrees Fahrenheit for about 15 minutes, stirring it every five minutes. The homemade granola will be golden brown, but still a bit soft when it's finished baking. It will firm up as it cools. Transfer the granola to an open container and let it cool completely, stirring it occasionally to break up clumps.
The Mix-Ins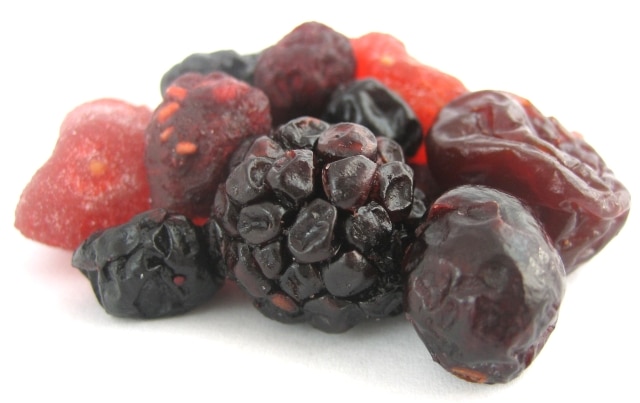 Once the granola has cooled, it's time for the fun part! Customize your homemade granola by mixing about 2 cups of your favorite dried fruit and nuts into the cereal. For example, you could make a high-antioxidant cereal by adding walnuts and dried blueberries. Stir in sliced natural almonds and unsweetened dried banana chips to create a high-energy snack for after workouts. Freeze-dried fruit pairs well with the toasted oat mixture to make a delightfully crunchy, light treat that's good on the go.
The most important rule about choosing granola mix-ins is that there are no rules! Experiment with different flavor combinations and chow down on that homemade healthy goodness.
Browse NutsOnline's selection of nuts here and dried fruit here.