Drink In the Power of Chia
Chia seeds are a superfood of the highest order. Originally consumed by Aztec warriors as a survival ration during battles, these tiny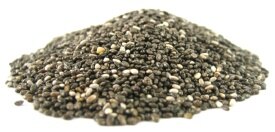 seeds pack in a ridiculous amount of nutrients and full-body benefits.
Chia seeds can absorb 10 times their weight in water, which helps you feel fuller longer and promotes hydration. Chia seeds are also the richest plant source of omega-3 fatty acids. This dietary necessity helps your body beat inflammation from diseases such as arthritis and promotes heart health. Chia seeds have been found to lower blood pressure, reduce the risk of heart disease and decrease blood sugar by slowing the conversion process of carbohydrates to simple sugars. Their unique combination of fiber and healthy oils helps remove toxins from the body.
Many people consume chia seeds by adding them to the beverage of their choice. When combined with water, chia seeds form a thick gel that mixes easily with drinks. The gel is tasteless and odorless, and imparts a bit of texture to the beverage.
To make chia gel, pour about 2/3 cup of seeds into a large container with a lid. Add 4 cups of water to the seeds and stir or shake to combine. Refrigerate the mixture for at least 30 minutes to allow the gel to form. Chia gel will keep in the refrigerator for two to three weeks.
One of the simplest drinks to make with chia gel is a chia fresca. This refreshing beverage, which is popular in Mexico, combines the goodness of chia seeds with tart citrus. To make chia fresca, squeeze several teaspoons of lemon or lime juice into the bottom of a glass. Add 1/4 to 1/2 cup of chia gel to the juice, then top the mixture with several ice cubes. Fill your cup with water and add natural sweetener, such as organic agave syrup, stevia powder or organic honey, to taste. Mix it thoroughly and sip it through a straw to draw up that chia goodness from the bottom of the glass.
You can also add a couple spoonfuls of chia gel to fresh-squeezed fruit and vegetable juice, lemonade, smoothies, herbal tea or nut milk. The gel combines easily with yogurt and oatmeal as well. The sky's really the limit!
Do you already incorporate chia seeds into your day-to-day diet? What are some of your favorite ways to use chia gel in drinks? If you haven't tried these super seeds, we urge you to give them a shot! It's not every day that you find a great snack that offers such spectacular nutrition. Good for the body and the soul!