We don't know about you, but our gardens are just starting to yield some tender greens and veggies that are begging to be eaten up. That can only mean one thing: It's salad season!
Once we've got our bowl of leafy goodness fixed just the way we like it, we always give it a little nutrient and flavor boost using some delicious dried fruits, nuts and seeds. Here's a list of our favorite salad toppers!
1)      Organic pepitas: Pepitas, also known as pumpkin seeds, have a delicious nutty flavor and an almost buttery texture. They're packed with phosphorus, protein and iron, and are wonderful on salads that are loaded with veggies and goat cheese.
2)Â Â Â Â Â  Raw sunflower seeds: These protein-rich seeds may help lower your blood pressure, and they taste great, too! We like the raw sunflower seeds on spinach salads. They go great with balsamic vinaigrette or poppyseed salad dressing.
3)Â Â Â Â Â  Natural cranberries: These dried cranberries are sweetened with apple juice instead of sugar, and we love their tart bite on spinach salads. Fresh and moist, these berries are a fantastic source of vitamin C!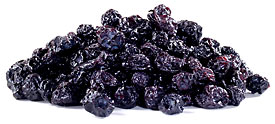 4)      Dried blueberries: Dried blueberries are a fantastic source of fiber, vitamin C and antioxidants. We love to add them to homemade chicken salad, then place a big scoop on a bed of fresh greens and tomatoes. You've gotta try it!
5)      English walnuts: Walnuts are as tasty as they are healthy, and that's a very, very good thing! They're packed with omega-3 fatty acids and have been shown to reduce the risk of heart disease. Try sprinkling them on your favorite salad greens, along with fresh-sliced strawberries and a little feta or gorgonzola cheese. You'll never go back once you've tasted this amazing salad!
What are some of your favorite salad toppings?