Many medical experts have found that chia seeds have quite a few benefits, including aiding weight loss, reducing blood pressure and controlling blood sugar. They also promote hydration and strong performance in athletes, and many runners and hikers swear by their benefits.
Because chia seeds can absorb up to 10 times their weight in liquid, they can really boost your hydration. Making a chia gel and adding it to juice, water, smoothies and oatmeal can help athletes maintain their overall endurance.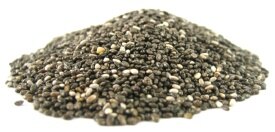 Some athletes like to pump up with chia before their exercise routine, and others save it for their end-of-workout treat. It's important to find the timing that works for you. If you tend to get dehydrated during your workout, then chia seeds could help restore your balance. If you feel sapped of energy afterward, chia might just be the pick-me-up you need.
There are a couple of different ways you can work chia seeds into your daily routine. For those who are pressed for time, we offer Organic Chia Energy Squares. Tailor-made for NutsOnline's chia-crazy customers, these chewy squares are packed with raw ingredients like cashews, dates and coconut in addition to chia seeds.
Many people prefer to make a batch of chia gel and store it in the refrigerator as an easy addition to smoothies and other snacks. To do this, simply mix 2/3 cup of chia seeds with 4 cups of water in a jar with a tight-fitting lid. Shake to combine the seeds and water, then refrigerate it for at least 30 minutes to allow the gel to form.
As we mentioned earlier, you can add a tablespoon or two of chia gel to your smoothie, juice or oatmeal. You can also make a refreshing treat called chia fresca by mixing the chia gel with water, citrus juice and sweetener.
What are some of your favorite ways to consume chia seeds? Do you ever use them as a supplement before or after your workout?