This is a Nuts.com original recipe.
The best way to break out of the winter doldrums? Exciting, original flavors worth embracing! We took that mission to task with our Umami Burger.
Enhance the overall depth and flavor of beef with our flavorful Umami Powder made from pungent and salty ingredients key to Asian cuisine. The Japanese spice blends instantly, adding a savory and sour taste to the burger itself.
Adding to the melt-in-your-mouth sensation from the Umami Powder is a killer barbecue maca sauce. Its smoky sweetness complements our Dried Chanterelle Mushrooms which lay atop the sauce and add mouthfeel and flavor.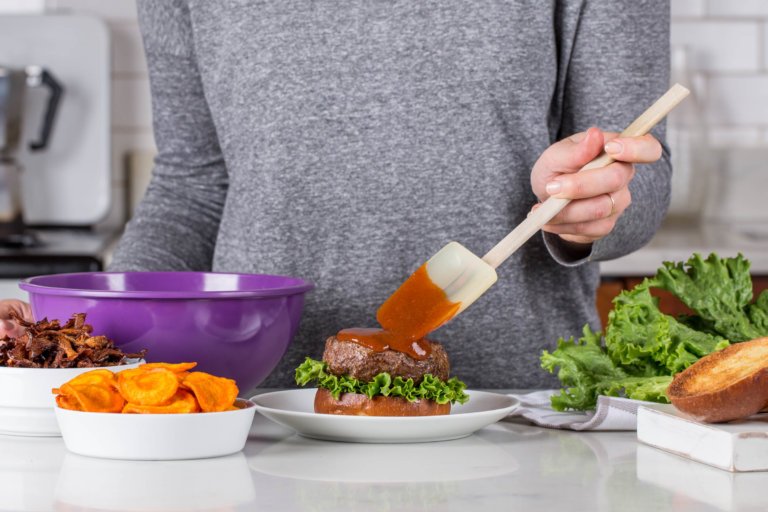 Ingredients
1 cup prepared BBQ Sauce
1 tablespoon Organic Maca Powder
2 tablespoons olive oil, divided use
¼ teaspoon salt
1 pound ground beef
2 teaspoons Umami Powder
4 burger buns
4 green leaf lettuce leaves, rinsed and patted dry
Instructions
In a medium bowl, stir together BBQ Sauce and Organic Maca Powder until smooth. Set aside.
Rinse Dried Chanterelle Mushrooms then place in a medium bowl and cover with boiling water. Let sit for 20 minutes, then drain.
Add one tablespoon of the olive oil to a medium skillet over medium heat. Once the oil is hot, add the drained mushrooms and sauté until tender and beginning to brown at the edges, about 10 minutes. Stir in the salt and move the mushrooms to a bowl or plate.
While the mushrooms are cooking, add the ground beef and Umami Powder to a medium bowl and use your hands or a large spoon to stir together until combined. Form into 1-inch thick patties.
Add the remaining tablespoon of olive oil to the medium skillet and return it to medium heat. Once the oil is hot, add the beef patties in a single layer. Cover and cook until browned on the outside and just well done, about 8 minutes on each side.
Split the burger buns and add a lettuce leaf to each bottom half. Top each with a beef patty, spread on maca BBQ sauce, layer on the mushrooms, and finish with the remaining bun half. Serve immediately.
https://blog.nuts.com/umami-burger/