Vegan Daikon Noodle Ramen
This vegan daikon noodle ramen recipe was developed exclusively for Nuts.com and our customers by the talented Anya Kassoff and Masha Davydova. This mother-daughter team share their ideas about tasty and nourishing cooking on their website, Golubka Kitchen.
Ramen is a deeply satisfying Japanese dish consisting of a powerful, meat or seafood-based broth full of umami, as well as textural noodles and various add-ins. This Vegan Daikon Noodle Ramen is my plant-based interpretation, with a nice balance of comforting and refreshing flavors.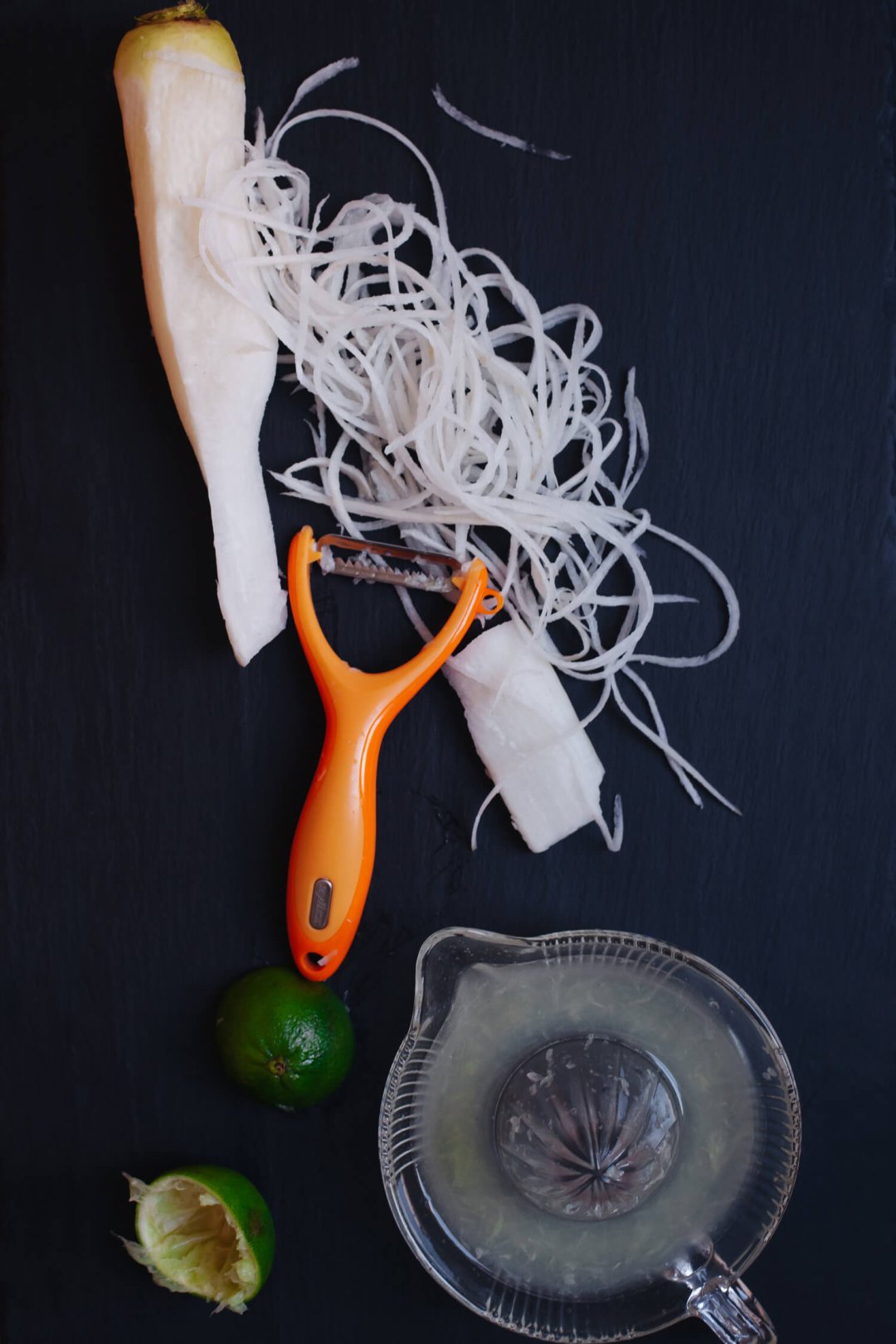 Instead of ramen noodles, I shape daikon radish into noodle-like strands using a julienne peeler and cook it in boiling broth as I would any pasta. This method lightens up the dish and makes it entirely gluten-free, and you won't deprive yourself of the cozy act of slurping up noodles.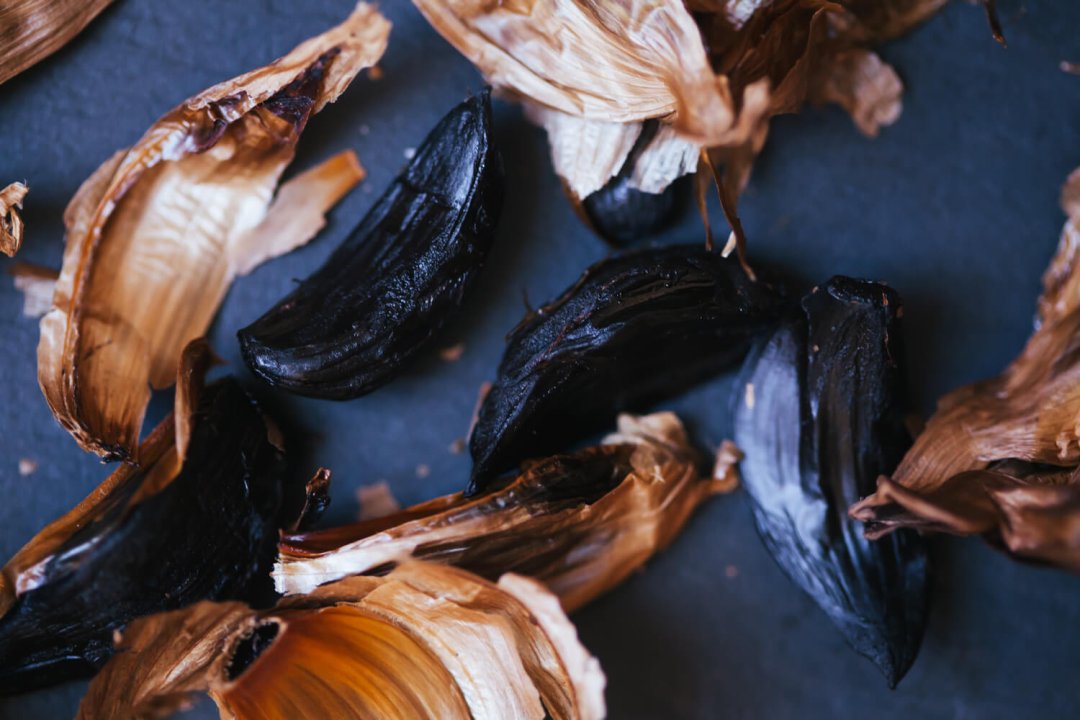 Broth is arguably the most important element of ramen, and many ramen shops are known for their specific broth formulas. Since ramen broth is full of loud, intense flavors that result from stewing meat or seafood, recreating an equally flavorful meatless version can seem challenging. Thankfully, the plant world offers plenty of ingredients full of deeply savory flavors.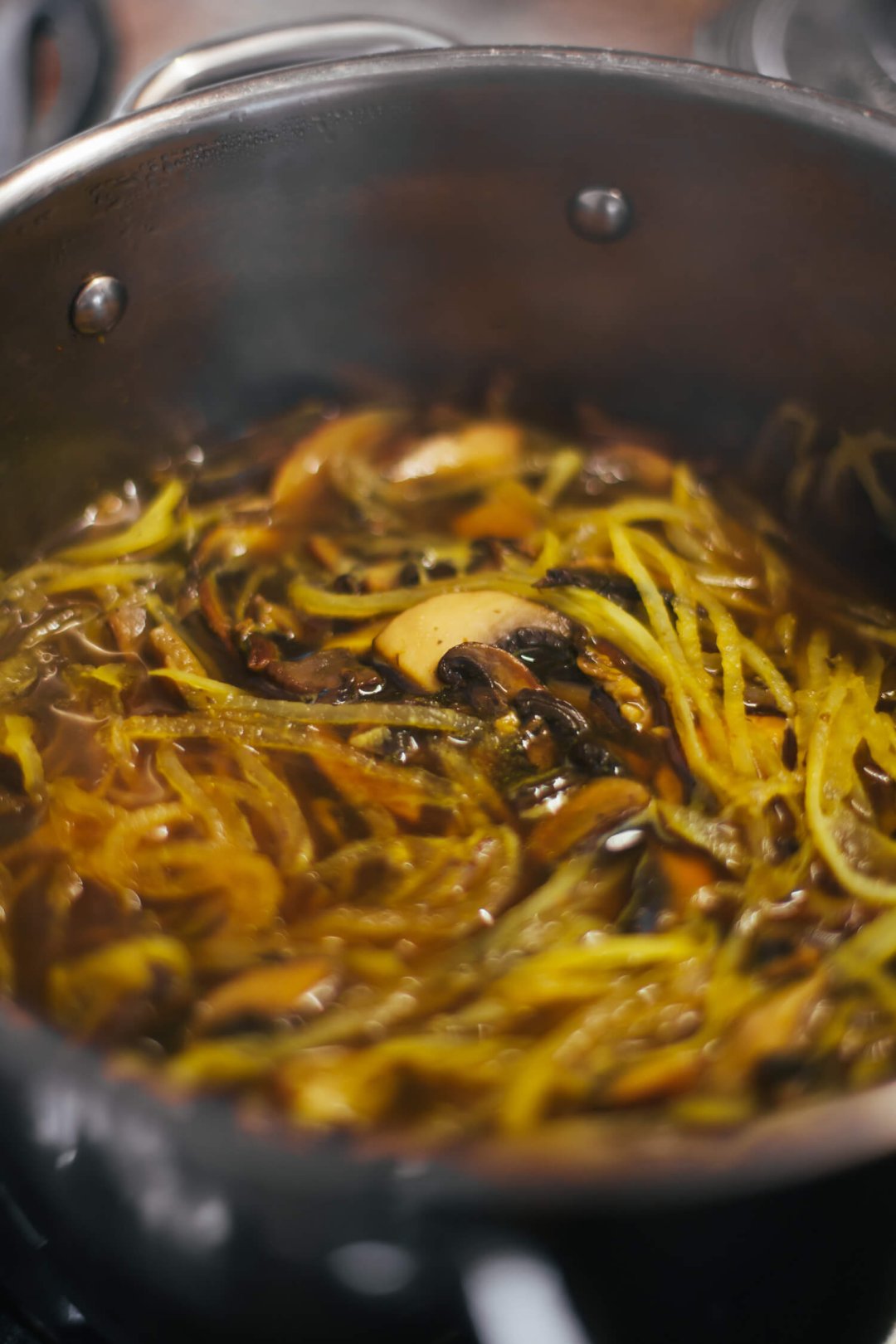 In this recipe, I employ a combination of fresh and dried mushrooms, hot pepper, ginger, garlic, miso, and Nuts.com's magical umami powder (consisting of concentrated versions of all the aforementioned ingredients) to create a full-bodied broth.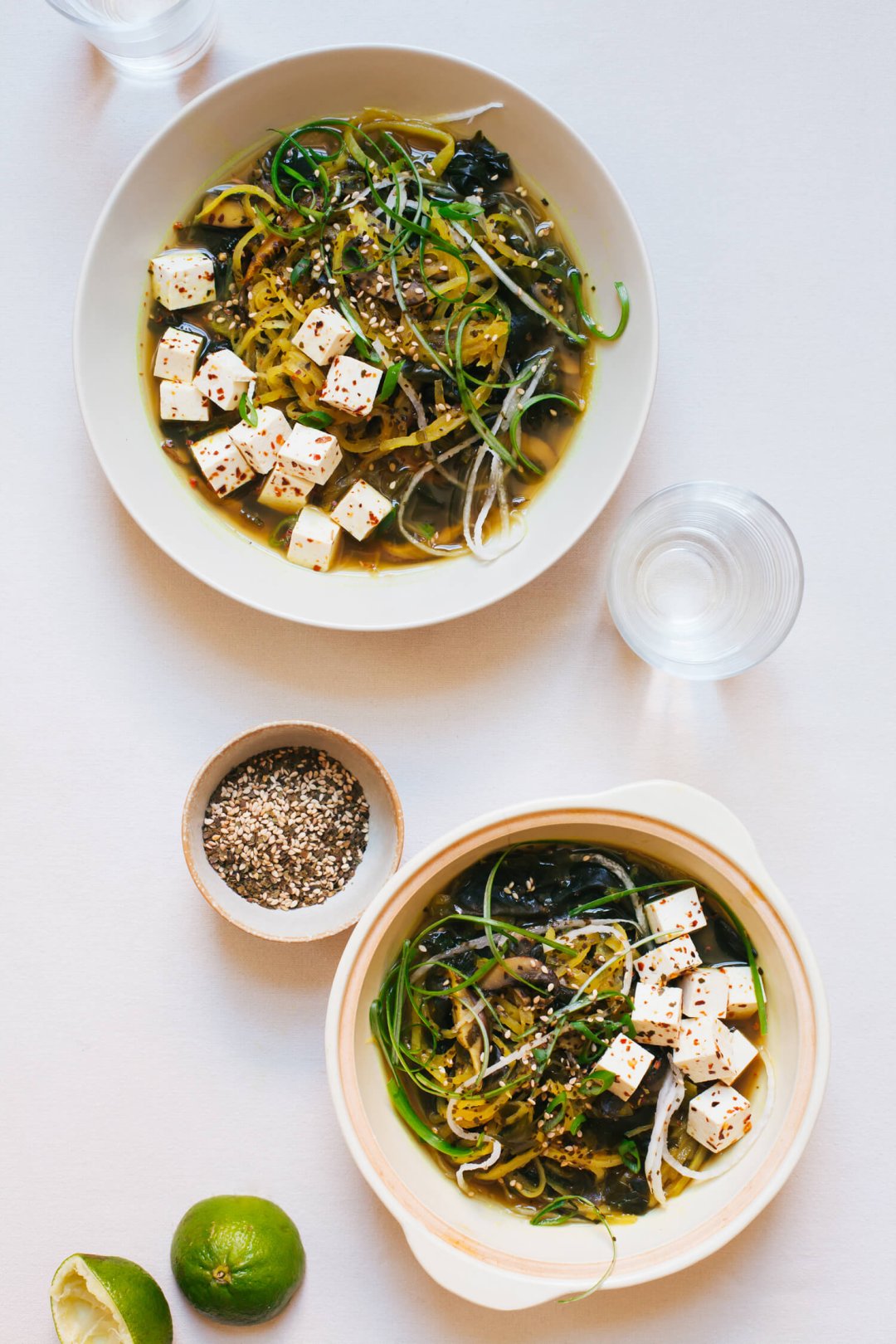 Black garlic is another amazing ingredient to have on hand for quickly adding savory flavor to all kinds of dishes. It's made by consistently heating whole heads of garlic over the course of several weeks, which results in something similar to roasted garlic, but even more earthy and caramelized in taste. Though it's an optional ingredient in this dish, black garlic is so worth a try, and adds another dimension to this incredibly satisfying, nourishing ramen.
Ingredients
5 garlic cloves - crushed
1-inch piece ginger - sliced
1 chili - seeded and sliced
1 2-inch piece kombu
white parts of 8 green onions, green parts sliced and reserved for garnish
1 teaspoon Umami Powder (optional)
1 teaspoon Turmeric Powder (optional)
1 teaspoon neutral Coconut Oil
½ teaspoon Sesame Oil
2 garlic cloves - thinly sliced
3-4 Black Garlic cloves - sliced (optional)
1 1/2 lb / 670 g crimini or shiitake mushrooms, or a combination of both - sliced
½ tablespoon tamari
½ tablespoon brown rice vinegar or mirin
2-3 large daikon radishes - sliced into noodles using a julienne peeler or spiralizer
juice of 1 lime
3 tablespoons White Miso
¼ cup dried wakame seaweed (optional)
12 oz firm tofu – cubed, sprinkled with sesame oil and red pepper flakes toasted sesame seeds for garnish (optional)
Instructions
Combine 8 cups of purified water with the crushed garlic cloves, ginger, chili, kombu, white parts of green onions, dried shiitake, umami powder and turmeric, if using, in a medium soup pot and bring to a boil over medium high heat. Reduce the heat to establish a strong simmer and cook, partially covered, for 20 minutes. Remove from heat, cover and let infuse further while cooking the mushrooms.
Warm the coconut and sesame oils in a large sauté pan over medium heat. Add the sliced garlic and sauté for 1 minute, until fragrant. Add the black garlic and mushrooms and sauté for another 7-8 minutes, until all the liquid released by the mushrooms is evaporated. Add tamari and brown rice vinegar/mirin and cook for another 2 minutes, until all the liquid is absorbed. Remove from the heat and set aside.
Strain the broth, pour it back into the pot and turn the heat to medium high. Reserve the rehydrated dried shiitake and discard the rest of the solids strained from the broth. Slice the rehydrated shiitake and add back into the broth. When the broth begins to boil, add the daikon radish noodles and sautéed mushrooms to the pot, establish a strong simmer and cook for 3-5 minutes, until the noodles are soft but not mushy. Remove from heat and stir in the lime juice.
In a small bowl, combine the miso paste with 3 tablespoons of the broth until smooth. Add the miso to the soup pot and mix to incorporate. Stir in the wakame seaweed, if using. Taste broth for salt and add a splash of tamari, if more salt is needed. Serve right away garnished with sliced reserved green onion, cubed tofu and toasted sesame seeds, if using. Store the leftovers in the refrigerator for up to 3 days.
Notes
If you have time, make the broth the night before, following the directions in step #1, and let it infuse overnight in the refrigerator.
https://blog.nuts.com/vegan-daikon-noodle-ramen/